Grand Theft Auto IV (PC) & Grand Theft Auto IV Guide [With Fold-Out Map]
Grand Theft Auto IV casts you as Niko Bellic, a recent immigrant to Liberty City who finds himself immersed in a world of crime and tries to make the best of it.
New high resolution technology brings Liberty City to life with even " more stunning graphical detail Expanded multiplayer will require even more strategy and skill to " come out on top Match Filtering allows you to pick your favorite multiplayer options " and then instantly find online matches that fit Record gameplay clips and edit them together with a variety of " options using the Video Editor and upload via the Rockstar Social Club Tune into the new radio station, Independence FM, and customize " a playlist with your own songs Optimized for PC controls and Xbox 360 controller
Now In Stock
Grand Theft Auto IV (PC)
Need for Speed: Shift (PC)
This is the True Driver's Experience of Need for Speed: SHIFT. Through the combination of perception-based G-forces, an ultra-realistic first-person cockpit view, an accurate, accessible physics-based model and the all-new, brutally disorienting crash dynamic, you'll be thrust into the driver's seat amid the chaotic noise, intensity, and physical and emotional demands of the race.

Take up to $500 off select PCs from the Microsoft Store! No promo code required!
Flat Out
Experience the drive of your life as you throw yourself around 45 challenging tracks in one of 16 fully upgradeable cars.
The track environment is subject to the all-encompassing physics system that is unique to FlatOut, and is set to define a new standard in racing games. Fences will shatter, tire walls will explode, water tanks and barrels will fly across the track into other cars.
Driver: Parallel Lines
Driver: Parallel Lines (I will refer it as "DPL" from this time forward) is a miraculous achievement!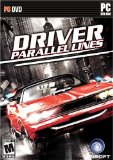 I have just completed the game and must report that it is the best game I've played all summer (and I have played many games). I have read the reviews and am currently scratching my head at why people hate this game so much. DPL is about an 18 year old professional driver who enters the world of being the wheelman for an underground crime organization. He is betrayed and is put in jail. After 28 years of doing time, he is ready to seek revenge.
Driver Parallel Lines
Need for Speed: Undercover Official Strategy Guide